Wednesday, May 24, 2023 / by Tanesha Boler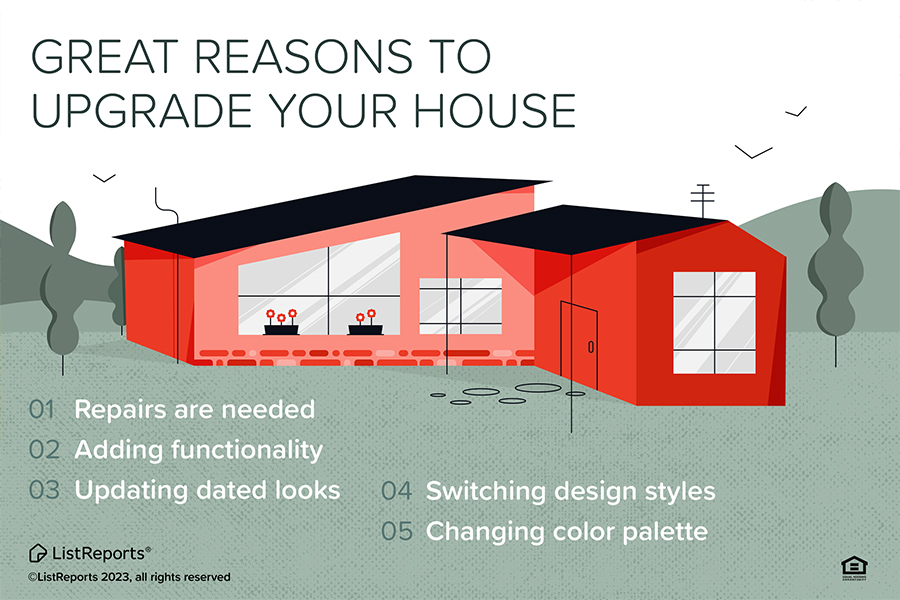 There are several compelling reasons to consider upgrading your house:
Enhanced Comfort and Functionality: Upgrading your house allows you to improve its comfort and functionality to better meet your needs and lifestyle. You can create a more efficient layout, update outdated features, and incorporate modern conveniences that make daily living more enjoyable.
· Increased Home Value: Upgrades and renovations have the potential to increase your home's market value. By investing in strategic improvements, you can potentially attract more buyers and command a higher selling price when the time comes to sell your property.


· Improved Energy Efficiency: Upgrading your house can lead to improved energy efficiency, resulting in long-term cost savings and reduced environmental impact. Installing energy-efficient windows, upgrading insulation, and investing in energy-saving appliances can lower utility bills and make your home more sustainable.


· Personalization and Style: Upgrading your house allows you to personalize and showcase your unique style. Whether it's a kitchen remodel, bathroom renovation, or updating flooring and finishes, you can create a space that reflects your taste and preferences.


· Health and Safety: Upgrades can address health and safety concerns within your home. This can include replacing outdated electrical systems, upgrading plumbing fixtures, installing carbon monoxide and smoke detectors, or improving ventilation to ensure a healthy and safe living environment for you and your family.


· Adaptation to Changing Needs: As your lifestyle and family dynamics change, upgrading your house can help accommodate those changes. This may involve adding additional bedrooms, creating a home office, building a guest suite, or installing accessibility features for aging family members or individuals with disabilities.


· Increased Enjoyment and Pride of Ownership: Upgrading your house can significantly enhance your enjoyment of your home. A well-designed and updated space can create a sense of pride and satisfaction in homeownership, making it a place you truly love and feel comfortable in.


· Avoiding Future Maintenance Issues: Upgrading certain components of your house, such as replacing an aging roof or updating plumbing and electrical systems, can help you avoid costly maintenance issues in the future. Investing in preventive upgrades can save you from unexpected repairs and expenses down the line.


Remember to carefully consider your budget, goals, and return on investment when planning any upgrades. Consult with professionals, such as contractors or real estate agents, to get expert advice on which upgrades will add the most value and benefit to your specific situation.



Tanesha Boler Realtor®| Bliss Realty & Investments
taneshaboler@blissrealtyaz.com
https://tanesha.blissrealtyinvestment.com